Quiz-Buddy for Palm.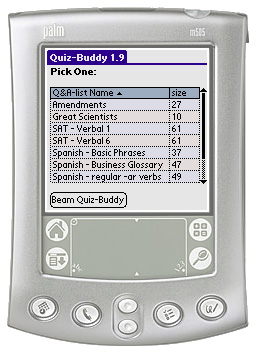 Do you have a Palm PDA and want to study on-the-go? Then Quiz-Buddy for Palm is your perfect companion!
You can use any of the built-in quizzes or create your own with Quiz-Buddy for Windows.
Best of all, Quiz-Buddy for Palm is free for personal use and can be downloaded and installed in seconds!

Quiz-Buddy for Palm Screenshots.
Quiz List.

This is the screen that will appear when you start the program. Simply tap on the topic that you want to study.

Multiple-choice Question
(4 answers).

Next, you will see a multiple-choice question. Tap on the answer that you think is correct.

Multiple-choice Question
(2 answers).

If you prefer questions with only two answers, you can switch to this quiz style.

Yes/No Question.

One more quiz style! Answer yes or no.

Quiz Preferences.

Use this dialog to optimize your Quiz-Buddy experience.

Quiz List Statistics.

If you like statistics, switch to this view and see your progress with the quiz so far.

Question-Answer pair Details.

Here you can see even more details on your progress with each individual question.
Quiz-Buddy for Palm saves you time because it adjusts to your way of learning and acts like a patient teacher who knows which questions to ask more often.
With Quiz-Buddy for Palm you will be able to:
Memorize almost any kind of question/answer textual information
Study by answering multiple-choice or yes/no questions
See how well you answered each question
Share quizzes with your friends or students
Quiz-Buddy for Palm comes with quizzes on topics such as SAT Verbal, Spanish vocabulary, U.S. Presidents, Amendments to the Constitution and U.S. State Capitals.
Want to create your own quiz? Enter your questions and answers into Quiz-Buddy for Windows and export the quiz to your Palm with just a few mouse clicks. (Please note: Quiz-Buddy for Palm does not support quizzes with pictures or images.)
Download Quiz-Buddy for Palm now and study anywhere you want!