Main Window.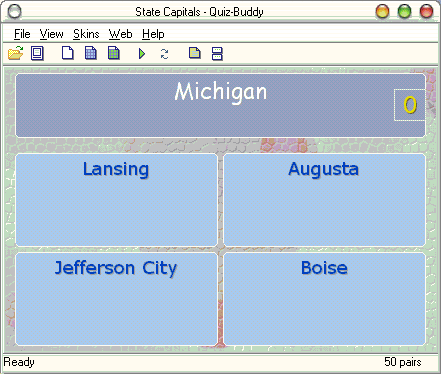 The layout of the main window is simple. The question is on top and the multiple-choice answers are below it.
Several variations of the basic layout are available. To change main window layout, go to Layout Settings.
Click on the answer that you think is correct. Its color will change and you will also hear a sound. Please see the Learning section for advice on how to take advantage of the more advanced features.
If you are not sure about the answer, double-click on the question. You will see the Question Notes dialog.
Right-click on the mouse and observe the context menu which allows you to conveniently change some settings.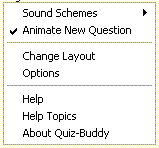 The upper part of the window contains the menu and the toolbar.
The toolbar allows you to access the most frequently used functions in one click:

- Open a Q&A-list

- Export the current Q&A-list for use with Quiz-Buddy for Palm OS

- Create a new Q&A-list

- View the current Q&A-list

- Edit the current Q&A-list

- Start a Q&A session

- Reverse questions and answers

- View notes for the current Q&A-list

- Start a Slideshow for this Q&A-list
In the upper left corner you can see the Smart Counter showing the total number of correct numbers. Click on the counter to change its settings.

The bottom part of the window displays the number of correct and incorrect answers as well as the total number of Q&A-pairs.
The background pattern can also be adjusted by using the arrow keys.