QB - SAT (Verbal).
Get Ready for SAT Verbal!
Do you need to get ready for SAT Verbal? Experts agree that the SAT Verbal section is mostly a vocabulary test. It is as simple as that: if you know the words, with some common sense you will ace the test. To help you do your best on the test, we offer QB - SAT Verbal.
QB - SAT Verbal is an easy-to-use and fun program for Windows. Learning is accomplished through answering a number of automatically-generated questions.
Includes:
A quiz of over 50 SAT prefixes
More than 300 words similar to those that may appear in the SAT Verbal section
Built-in algorithm that automatically adjusts to your way of learning making it more time-efficient and fun
Intuitive and attractive interface with skins and funny sounds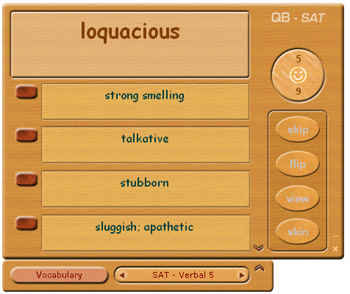 ---
If you like the program and would like to use it beyond the trial period, you will need to buy a Registration Code.

It costs only $9.95 and comes with 30-day Unconditional Money-Back Guarantee.