Math Exercises on your Palm PDA.
Meet Easy Math for Palm!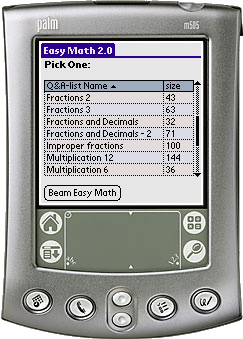 Do you think your kids may benefit from more math practice? If so, here's a simple program that will help!
So easy to use, no instructions needed
Automatically adjusts to your way of learning to make it more efficient and fun
Multiplication Practice (Numbers 1 to 12)
Division Practice (Numbers 1 to 144)
Addition Practice (Numbers 1 to 12)
Subtraction Practice (Numbers 2 to 24)
Fractions Practice
Units of Measurement
Three types of quizzes.
Free trial.
More...

Easy Math for Palm Screenshots.
Quiz List.

This is the screen that will appear when you start the program. Simply tap on the topic that you want to study.

Multiple-choice Question
(4 answers).

Next, you will see a multiple-choice question. Tap on the answer that you think is correct.

Multiple-choice Question
(2 answers).

If you prefer questions with only two answers, you can switch to this quiz style.

True/False Question.

One more quiz style! Answer true or false.

Quiz Preferences.

Use this dialog to optimize your learning experience.

Quiz List View.

If you like statistics, switch to this view and see your progress with the quiz so far.

Question-Answer pair Details and Statistics.

Here you can see even more details on your progress with each individual question.

---
If you like the program and wish to use it beyond the trial period, you will need to buy a license key.

It costs only $8.95 and comes with 30-day Unconditional Money-Back Guarantee.